Outbreak Undead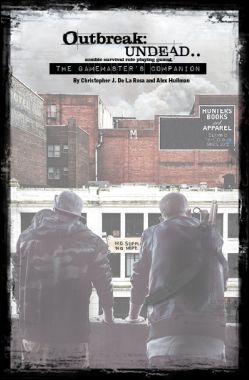 This indispensable companion allows a gamemaster to turn their surroundings into a zombie infested terror for games of Outbreak: Undead. It also has the tools to allow the creation of entire new settings¸ complete with environmental rules and a whole list of hazards to imperil their players. There are also multiple examples of alternate play modes that allow players of varying skill level to play at the same time! A GM will also find ways to run large scale events and coordinate with multiple groups to participate in a shared in-game world. Completing the content are resources to understand the formatting of gear cards and notation of organized events: Pandemic Play!

There are also sample rules that benefit a knowledgeable player¸ willing to lend their own intellect to the perils of the zombie apocalypse. This encourages and rewards real-world knowledge in a player's effort to become more prepared for the inevitable.

BEST OF LUCK TO YOU¸ SURVIVOR¸ YOU WILL NEED IT!