Nexus: Live Action Roleplaying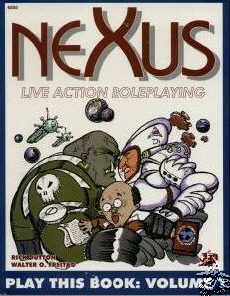 A live-action RPG game/scenario intended for 44 players and 5 referees. The scenarios is about aliens who manage to land their meeting right in the middle of a sci-fi convention¸ and accidentally mistake the con-goers for their comrades. The book comes complete with characters¸ handouts¸ and a brief rules set. - A description from https://darkshire.net/jhkim/rpg/encyclopedia/ with kind permission of John H. Kim
---
Nexus Live Action Roleplaying
Rulebook Live Action Roleplaying for 44 players¸ 5 gamemasters¸ and one great weekend!
Secret Agents from all over the world are converging¸ clandestinely¸ on a small science fiction convention. Coded transmissions have been intercepted¸ emanating from somewhere near the Con Suite. Fans have mysteriously disappeared¸ and strangers have shown up at the convention wearing their badges. And rumor has it that some of these clever costumes aren't really costumes at all.