Nephilim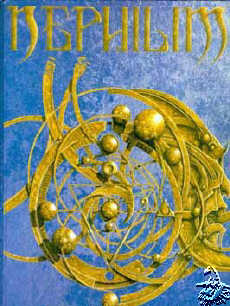 Hier spielt man ein körperloses Elementar-Geschöpf¸ das das Weltgeschehen durch die langfristige Übernahme von Wirtskörpern beeinflußt. Der auserwählte Mensch (Gefäß) verändert sich im Laufe seines Lebens immer mehr zu einem ebenbild seines körperlosen Insassen. Nephilim existieren exig¸ allein der Wechsel bei Verlust eines Gefäßes kann länger dauern.
Ein okkultes Rollenspiel
Dieses Spiel ist nicht wirklich
Sie sind wirklich

Denn da die Kinder Gottes bei den
Töchtern der Menschen lagen und diese
ihnen Kinder gebaren¸ wurden daraus die
Nephilim¸ Gewaltige in der Welt und
berühmte Männer.
Die Bibel¸ Genesis 6¸4
---
Bibelfeste wissen: "Denn da die Kinder Gottes bei den Töchtern der Menschen lagen und dieses ihnen Kinder gebaren¸ wurden daraus die Nephilim¸ Gewaltige in der Welt und berühmte Männer." Genesis 6¸4. In diesem Rollenspiel werden die Türen des Phantastischen für den geneigten Leser geöffnet.
---
Nephilim ist schon so etwas wie ein kleiner Geschichtekurs - zumindest werden Spieler¸ die immer gut in Geschichte waren¸ viel mehr Spaß an diesem Spiel haben. Ein Nephilim ist ein Urwesen¸ daß seit ewiger Zeit auf der Erde weilt. Durch die Epochen hindurch hat sich der Nephilim immer wieder mit anderen Gefäßen¸ sprich Menschen verschmolzen¸ um in das Geschehen der Welt einzugreifen. Stirbt das Gefä߸ durch Gewalt¸ so dauert es einige Zeit¸ bis der Nephilim wieder aufs neue in unsere Welt vordringen kann - aber er stirbt selbst nicht. Allein kaltes Eisen vermag ihn dauerhaft zu schaden. Keiner weiß genau warum gerade jetzt¸ nahe dem Jahr 2000¸ so viele der Nephilim aus Ihrem Schlaf erwachen. Ein Nephilim in unserer Epoche hat also schon eine Reihe von Existenzen gelebt und verfügt daher bereits über ein breites Maß an Fertigkeiten und Wissen¸ die er mit seinem aktuellen Wirt teilt. Aber ein Nephilim ist nicht nur ein Vielkönner¸ er ist auch ein Elementarmeister. Jeder Nephilim steht im Schein eines Elementars¸ sei es Feuer¸ Erde¸ Wasser¸ etc. Mit den Jahren wandelt sich auch das menschliche Gefäß immer mehr in eine Form¸ die dem Elementar wohlgefallen bescherrt¸ was nichts anderes bedeutet wie Feuerrote Haare¸ flammende Augen¸ Hyperaktivität (Feuer); Ausgeglichenheit¸ glatte grünbläuliche Haut¸ Schwimmhäute (Wasser) oder gar Weißheit¸ Schnelligkeit¸ wildes Haar (Wind)¸ usw. Je besser und älter der Wirt eines Nephilim wird¸ desto mehr sieht man ihm sein wahres Inneres an. Aber auch die Macht über dieses Element wird verbessert - damit wird der Nephilim immer mehr zu einem Elementarzauberer¸ der manigfaltige Magiekünste beherrscht. Ein Nephilim lebt gefährlich - es gibt Verfolger seiner Art und auch Gruppen normaler Menschen¸ die ihn jagen. Aber was ist das schon im Vergleich zur Macht eines Nephilim ?
An occult RPG where characters are immortal creatures that awaken in human form. First edition was French-language¸ later translated into English. - A description from https://darkshire.net/jhkim/rpg/encyclopedia/ with kind permission of John H. Kim
---
Nephilim is a role-playing game¸ not of contemporary horror¸ but a game of modern occult mysteries. Loosely based on actual occult ideas (very loosely based¸ honest). The players portray Nephilim¸ non-material¸ reincarnating beings who seek Enlightenment through the practice and understanding of what we would call magic. To function in our world¸ they must inhabit human bodies. While the game portrays this as an subjugation of the original human personality¸ many people¸ myself included¸ prefer an approach modelled after the character Dax on ST: Deep Space 9. Dax is a Trill¸ a slug-like entity requiring a humanoid host. When Dax fuses with a host¸ the personalites are merged: Dax is actually Jedzia-Dax¸ who has some things in common¸ and some unique features from¸ Kirzon-Dax¸ the previous combination. With our alternate interpretation¸ the original human personality is not ignored¸ but eventually comes into integration with the Nephilim personality. Nephilim work on mastering magic and integrating the host personality into the meta-personality of the Nephilim and all its previous incarnations. Fighting against them are the Templars and other human organizations¸ who consider the Nephilim to be possessive demons and the manipulative foes of humanity. In ages past you lived many times. Your slaves build the Great Pyramid to honor your death; you died foe the sins of Jerusalem; you lost your head suggesting they eat cake. You are Nephilim - demi-god¸ prophet¸ saint & magician from the mythic past. Again you incarnate¸ to continue your ancient struggle for enlightenment¸ and against the plots of occult societies who seek to enslave you and steel your magic.