Mummy: The Curse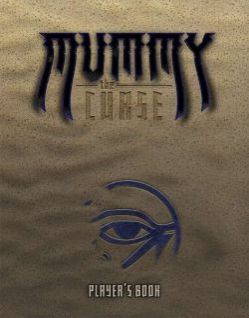 Imagine being both dead and deathless at the same time. Imagine being cradled in the arms of death for years¸ sometimes decades on end¸ but all the while knowing that you will eventually not only arise again¸ but awaken to an unfamiliar world that mostly fears and hates you. Now imagine that your purpose¸ your entire existence¸ is bound within this cycle -- that you are chained to it for all eternity. You sleep¸ you wake¸ your serve your Judge's will in the lands of the living¸ and you return to the death-sleep once more. The ancient culture that empowered you is gone¸ lost to the sands of time... yet you endure.

InMummy: The Curse¸ a Storytelling game set in the World of Darkness¸ you play one of these beings. Those who know they exist¸ from the cultists who serve them to the dark forces arrayed against them¸ call them the Deathless.
We call them mummies.