Kobolds ate my Baby / Kobolde fressen Babys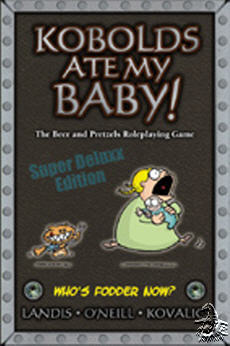 Das Böse regiert... ...zumindest bei 9th Level Games. Die Spieleschmiede hatte schon mit Kobolds Ate My Baby ein nicht ganz "Helden-konformes" Rollenspiel herausgebracht. Mit dem neuen Spiel "Evil Rules" dürfen die Charaktere mal auf die Seite der Bösen schlüpfen.
A humorous beer-and-pretzels RPG about playing kobolds sent on a mission to steal as many babies they can from the humans. It uses a very simple skill-based system including a Kobold Gruesome Death Chart and a magic system with 12 spells. There are several supplements for this game¸ including ""More Things to Eat and Kill!"". - A description from https://darkshire.net/jhkim/rpg/encyclopedia/ with kind permission of John H. Kim
ALL HAIL KING TORG! Kobolds are finally getting the respect that they deserve in the third edition of this classic black-humor RPG. A complete game¸ KAMB3E has everything that you need to create a group of kobolds¸ go out into the great big world looking for babies to eat¸ and eventually watch them die a Random Horrible Kobold Death! Complete character creation rules¸ new stats¸ house rules¸ spells¸ alignments¸ and even more ways to get yourself killed. Now with 50% less spelling errors and new Cover Art by John Kovalic!
KAMB3E uses the BEER ENGINE! Beer and Pretzel RPG Game System¸ and is compatible with NINJA BURGER and WARHAMSTER!