Journey Away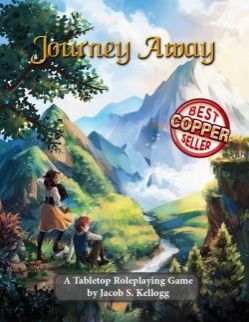 A World of Magic Awaits!

All your life you've lived in your village and listened to stories: stories from your grandparents about when magic first emerged in the world during their childhood¸ and stories from merchants and travelers about the wonders they've seen around the world.

Now the time has come for you to see this enchanted world for yourself. You and your friends will embark on a journey¸ leaving your village and venturing out to discover whatever is beyond the horizon. What will you encounter? What will you do along the way? It's all up to you!

This book contains all the instructions you need for you and your friends to bring a vivid set of adventurers to life and guide them on their journey away from home to discover a magical world that's limited only by your own imagination. All you need is this book¸ some gaming dice¸ a pencil and paper¸ and your imagination.

So what are you waiting for? Grab some friends¸ grab some dice¸ and begin your journey!

What's Inside:

In this game¸ you won't find detailed combat rules or lists of carefully-prescribed spells. Instead¸ you'll find guidance for an experience of shared storytelling in which everyone has a say in what unfolds during your adventure. The rules take a "light touch" approach¸ gently prompting you to add joy or drama based on the scene and the characters¸ but leaves you room to manifest those narrative twists in whatever way is fun for you and your friends.

Additionally¸Journey Awaypresents an introduction to an original fantasy setting. In the world of Adhara¸ you can be anyone you want¸ creating a character you can really identify with and make your own. As a special bonus¸ the setting bears the fingerprints of the game's biggest supporters: some of the Kickstarter backers named some creatures and places that are described in the book!

The rules and setting are supplemented with stunning full-color illustrations that really help to bring the game to life. Here's an example:If you're ready for a lighthearted fantasy romp that gives you the freedom to do as you please in an original world of wonder filled with the love of a community¸ then giveJourney Awaya try!