Jadeclaw: Anthropomorphic Fantasy Role-Play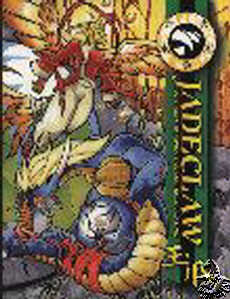 Ebenfalls von Sanguin Productions kommt ihr neues Rollenspiel 'JADECLAW: Anthropomorphic Fantasy Role-Play¸ World Book' (320 S.¸ $30). Jadeclaw ist ein alt-asiatisch angehauchtes Setting¸ mit einfachen Regeln¸ die kompatibel zu Ironclaw sind.
An anthropomorphic fantasy-genre RPG¸ in fantasy setting based on Chinese mythology. It is a new worldbook forIronclaw¸ using the same system. - A description from https://darkshire.net/jhkim/rpg/encyclopedia/ with kind permission of John H. Kim
JADECLAW is a role-playing game set in the mystical kingdom of Zhong Gou. For centuries¸ the Houses of Heaven have ruled over the Houses of Earth¸ sometimes for good and sometimes for ill. As it nears the end of the Jade Dragon's hold upon the Mandate of Heaven¸ will they surrender their thousand-year rule so easily? As the sun sets upon their rule¸ folk of ambition plan their schemes from all corners of the land... Over 24 player Races¸ such as the noble Dragon¸ the inscrutable Kirin¸ the strong Tiger¸ and the mystical Phoenix ... Over 50 player Careers¸ from all ranks of society¸ plus rules for making new ones! A game system simple enough to learn in 15 minutes¸ but complex enough for even the most demanding player. A rich setting detailing the politics¸ religion¸ mystical beliefs¸ and technology of Zhong Gou¸ reminiscent of 'Crouching Tiger¸ Hidden Dragon'¸ 'Iron Monkey'¸ or 'A Chinese Ghost Story.' Elements both mundane and fantastic¸ from gunpowder¸ to martial arts¸ to magic¸ to summoning the powers of the ancestors.