Gangbusters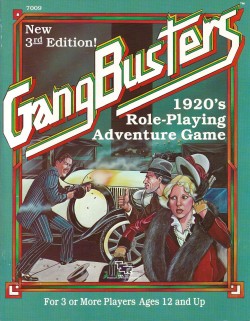 Detektiv-Spiel. TSR 1990 mit Mafia und Al Capone. Mehr als das Grundregelbuch (3rd Edition. 130 S. plus A2 Farbkarte) gibt es glaub ich nicht. Die Regeln waren ziemlich einfach. [Oliver Booms]
A police/gangster RPG set in the ""Roaring '20s""¸ with characters as private eyes¸ city cops¸ prohibition agents¸ reporters¸ or gangsters. The game encouraged players to pursue their individual goals rather than operate as a unified party. For example¸ a gangster character's goal might be to hold up a bank¸ while a policeman character would try to stop him -- and a journalist might tag along with the cop to cover the story¸ but wouldn't want to interfere either way. There were five 32-page adventure modules published from 1982-1984: ""Trouble Brewing"" (fictional 'Lakefront City' setting)¸ ""Murder in Harmony"" by Mark Acres (a murder whodunnit set at a high-class party)¸ ""Death on the Docks"" by Mark Acres (gang war over control of the Lakefront CIty dockworker's union) ""The Vanishing Investigator"" (protecting a witness in a trial involving organized crime)¸ and ""Death in Spades"" by Tracy Raye Hickman (a murder mystery with a random plot and ending based on draws from a deck of cards). - A description from https://darkshire.net/jhkim/rpg/encyclopedia/ with kind permission of John H. Kim
TSR -- seeking diversification from the fantasy genre -- introduced its Mafia & G-Men genre game in 1982. Like its contemporary brother RPG¸ Top Secret¸ GangBusters operated on a percentile-based rules system. It was a fine game and deserved more attention than it received.
A complete box set will include:
* 64-page rulebook
* 35x22 double-sided full-color map of downtown Lakefront city showing detailed building interiors.
* A sheet of 84 die-cut counters.
* 16-page introductory adventure.
1st (2nd?)edition:
1982 A 3rd edition was published in 1990 as a single perfect-bound book:
Welcome back to the Roaring Twenties! Gangsters and crime syndicates keep whole cities under their control while notorious bank robbers spread terror across the country. This is the age of gangsters¸ Prohibition¸ and the Model T. This is the world of the flappers¸ bathtub gin¸ and the Charleston. You can live those days of yesteryear with the GANGBUSTERS role-playing game!
Walk in the shoes of a private eye¸ pound the beat as an honest cop in a dirty world¸ or enforce the law of the land as a Prohibition Agent. You can be a cub reporter¸ scooping the competition¸ or a gangland thug¸ terrorizing the honest citizens of Lakefront City. Adopt the roles of the famous criminals and crime fighters of the 20s and 30's to face the struggles and problems of the crime-ridden syndicates of Lakefront City. The GANGBUSTERS role-playing game has been thoroughly revised in its new third edition. Material has been separated for use by the players and the judges¸ and source material has been added for you to find more background information for your games. Everything you need for a GANGBUSTERS game is included in this one volume! You dont need any more than the book in your hands and two 10-sided dice to delve into the adventures of the Prohibition Era!
This book includes:
* Game Rules for Players and Judges
* a 28xl9 full-color map of downtown Lakefront City
* a sheet of 156 playing pieces
* Game Statistics for famed gangsters and law enforcers of the 20s and 30s
* over 150 characters for use in Lakefront City¸ the official GANGBUSTERS campaign setting!