Fates Worse Than Death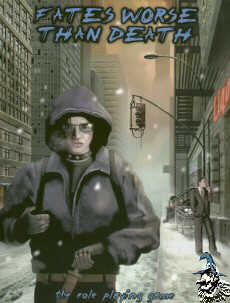 A post-apocalyptic/cyberpunk RPG¸ subtitled ""Suspense Horror and Hope in 2080 on the streets of Manhattan"". It is set on Manhattan island in 2080¸ which is largely deserted with 50¸000 inhabitants. Gangs draw lines and protect their own¸ existing because besides welfare¸ there is little the government does to protect human rights. Most are afraid to venture to the streets¸ and live as shut ins¸ playing in VR rather than living. It uses a detailed skill-based system¸ the ""Organic Rule Components"" system. Character creation uses classes and limited point buy. In order¸ the players chooses personality traits and worldviews¸ splits 80 points between eight attributes¸ chooses from among 46 classes¸ and split 100 points among skills (with costs based on class). Action resolution is attribute + skill + 1d20 vs difficulty. It has a detailed combat system with maneuvers and three Health attributes: Blood¸ Body¸ and Incapacity. - A description from https://darkshire.net/jhkim/rpg/encyclopedia/ with kind permission of John H. Kim

Desperate futures never looked so desperate. Hard Science-driven¸ amazingly unique update to Post-apoclyptic gaming.

An incredibly detailed look at New York in 2080¸ describing every aspect of the city and the people who live there. This is a dark¸ dramatic¸ hard-science¸ urban-horror game with a number of juicy twists. Players can play any member of city society¸ from homeless thieves to gang members to young entrepreneurs.