Deadlands: The Weird West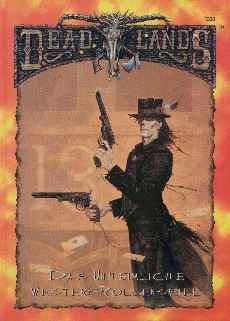 Prinzipiell hat die Welt von Deadlands mit unserer durch die üblichen Western-Filme geprägten Vorstellung ziemlich viel gemein. Es gibt karge und heisse Wüsten¸ die verrauchten Saloons mit Klimpermusik und käuflichen Frauen¸ haufenweise Revolver und ungewaschene Cowboys¸ die sie benutzen. Einsenbahnstrecken durchziehen weite Teile des Landes. Der Bürgerkrieg tobt und die Rothäute werden gnadenlos bekämpft¸ wo sie sich in den Weg stellen ... ... doch Moment¸ genau mit den Rothäuten - besser gesagt den Indianern - beginnen die Unterschiede zu unserer bisherigen Vorstellung vom Wilden Westen. Ein Schamane namens Raven sorgte mit einem Ritual dafür¸ daß die Geschichte hier in anderen Bahnen verlief. Mit einem Ritual formte er ein Dimensiontor¸ durch daß unzählige böse Geister¸ die Manitous unsere Welt betraten. Fortan war alles anders.

Ehemals haltlose Geistergeschichten füllten sich mit grausigem Leben¸ von Manitous beseelte Tote erwachten zu unheiligem Leben¸ krochen aus ihren Gräbern und folgten einem unbändigem Drang alles Lebende zu vernichten. Es scheint¸ als ob dieses neue Leiden den Manitous wie Nahrung war. Je mehr Angst und Leiden sie verbreiteten¸ desto stärker wurde ihr Einfluß in dieser Welt. Doch nicht alle Auferstandenen verfielen dem Manitou - ein paar waren im Willen stark genug um dem Ruf nach Gewalt zu widerstehen und führten weiterhin ein fast normales Leben - insofern man als langsam vor sich hinverwesender Leichnam sowas noch kann. Und der Schamane Raven ging noch weiter. Er beschwor Erdgeister und Erdbeben¸ so daß z.B. Kalifornien sich in einen Irrgarten aus Schluchten verwandelte¸ in die das Meerwasser strömte. Heute ist dieses Gebiet nur noch als Great Maze¸ das große Labyrinth¸ bekannt. Mit den Manitous kam jedoch auch ein neuer Brennstoff in die Welt: der Geisterstein (engl. Ghostrock). Mit ihm läßt sich enorme Hitze erzeugen und damit Dampfmaschinen zu hohen Geschwindigkeiten antreiben¸ die man mit herkömmlichen Brennstoffen nie hätte erzielen können. Seitdem haben immer wieder Wissenschaftler den Geisterstein für die irrwitzigsten Erfindungen (vor allem Kriegsmaschinen) benutzt¸ die mangels Power in unserer realen Welt erst wesentlich später umgesetzt werden konnten. Außer seiner Ergiebigkeit hat Geisterstein jedoch noch eine andere Eigenschaft die wunderbar zu einem Horrorszenario paßt: Er stöhnt und ächzt wie ein sterbendes Muli und erzeugt einen geisterhaften Rauch¸ der ihm auch zu seinem Namen verholfen hat. Doch nicht nur die indianischen Schamanen konnten Magie beschwören. Ein Mann namens Edmond Hoyle hielt all sein magisches Wissen verschlüsselt in einem Buch über Spiele fest. Die Verfolgung von Zauberern und Hexen hat ihn wohl damals dazu veranlaßt alles zwischen den Spiele-Beschreibungen zu tarnen. Doch so blieb sein Erbe erhalten und heute ist es jedem¸ der sein Buch entziffert hat möglich¸ selbst Magie auszuüben. Man nennt diese Leute Huckster und kann u.U. ihr Wirken an den Spielkarten erkennen¸ die sich beim Zaubern in ihren Händen befinden.
Als Spieler übernimmt man bei Deadlands die Rolle eines beliebigen Westernhelden. Das Regelwerk stellt zu diesem Zweck einige Profile (Empfehlungen) bereit¸ wie z.B. den Entdecker¸ Indianerkrieger oder auch Huckster¸ um nur wenige zu nennen. Frauen kommen bei Deadlands gleichberechtigt zum Zuge und erfahren keine Beschränkungen bei der Wahl des Charakters. Für Leute mit krankhafter Phantasielosigkeit (was suchen die beim Rollenspiel?) oder sogenannte Schnellstarter¸ gibt es eine Auswahl Urtypen¸ d.h. augearbeiteten Charakteren¸ mit Beschreibung¸ Werten und Ausrüstung¸ wie z.B. Büffellady¸ Prediger¸ Verrückter Wissenschaftler¸ Huckster¸ usw.

Ein Charaktergerüst besteht übrigens aus 10 Attributen¸ die als Anzahl Würfel (z.B. 4W10) angegeben werden. Nach Wahl des Spielers gesellen sich zu einem Attribut auch noch passende Fertigkeiten¸ bzw. Spezialisierungen. Bei seiner Wahl kann man sich von den Profilen anleiten lassen. Was die Charaktererschaffung bei Deadlands besonders macht¸ ist die Methode der zufälligen Werteermittlung: Hierzu werden aus einem Poker-Spiel (54 Karten)¸ verdeckt 12 Karten gezogen. Zwei davon kann man zurückgeben. Den Rest verteilt man auf die Attribute. Eine 2 ergibt z.B. "W4" (d.h. einen vierseitigen Würfel¸ hier Knochen genannt) und ein AS immerhin einen W12 (den höchsten erreichbaren Würfeltypus). Zweien und Joker sind bei der Erschaffung etwas Besonderes. Zweien dürfen nicht zurückgegeben werden. Joker können als W12 verwendet werden¸ haben jedoch einen zusätzlichen Vor- oder Nachteil¸ den der Marshal (der Deadlands-Spielleiter) festlegt. Die Farbe einer Karte legt den Vorfaktor fest. Pik AS bedeutet z.B. 4W12 (max. Ergebnis)¸ Kreuz 2 dagegen 1W4 (min. Ergebnis). Desweiteren kann ein Charakter noch um Vor- und Nachteile erweitert werden¸ die ein wenig mehr Salz in die Konzept-Suppe bringen. Diese wiegen sich gegenseitig auf¸ d.h. man muß Vorteile (z.B. Dickes Fell) durch den Kauf von Nachteilen (z.B. große Ohren) ausgleichen. Die Eigenschaft Puste (Erschöpfung) errechnet sich aus den zwei Attributen Vigor und Spirit.

Aus der Summe der drei geistigen Attributs-Würfelwerte Wissen¸ Schläue und Wahrnehmung errechnet sich die Zahl der Talentpunkte¸ mit denen sich Fertigkeiten (z.B. Reiten¸ Schnellfeuern) erwerben lassen. Je höher eine Fertigkeit¸ desto mehr Würfel darf ein Charakter bei einer Probe benutzen. Hat ein Charakter eine Fertigkeit nicht erlernt¸ so führt dies zu Abzügen. Die Probe bei Deadlands ist ein sogenannter "offener" Wurf¸ d.h. erreicht ein Würfel das Höchstergebnis¸ so kann der Folgewurf aufsummiert werden. Das kann solange wiederholt werden bis kein Höchstwurf mehr gelungen ist. Diesen Wurf nennt man dann ein AS. Eine gewürfelte "1" dagegen bedeutet immer ein Ärgernis. Der Spielleiter gibt bei einer Probe eine Schwierigkeit zwischen 3 und 11 vor. Der Spieler muß mit dem höchsten seiner Würfel darüber liegen¸ um die Probe erfolgreich zu bestehen. Wird das Ergebnis hoch übertroffen¸ so bedeutet das besonders zusätzliche positive Auswirkungen. Den Abschluß jedes Charakters bildet eine nette Geschichte und die Wahl der Ausrüstung (z.B. Revolver¸ Kleidung¸ Lebensmittel).

Der Kampf
Ein Regelsystem beweist vor allem im Konflikt seine wahre Stärke. Deadlands bedient sich hierbei mal wieder einer stilechten Besonderheit: den Poker-Karten. Eine Reflexprobe entscheidet¸ wieviel Karten der Spieler vom Aktionskartenstapel ziehen darf. Wunden können die Zahl der Karten zusätzlich mindern. Bei Überraschungen wird zusätzlich auch noch auf Wahrnehmung gewürfelt. Je h&oum
A western fantasy-horror game¸ set in an alternate history where magic and monsters begin appearing around the time of the Civil War. The system is a skill-based dice-pool system¸ where attribute determines die type (d4¸d6¸d8¸d10¸d12¸d20) and skill determines number of dice. - A description fromdarkshire.netwith kind permission of John H. Kim
---
The year is 1877¸ but the history is not our own. The Civil War drags on¸ stalled by some horrific occurrences neither the United States nor The Confederacy want the public to know about. The Indians have reclaimed their tribal lands¸ claiming spirits have granted them amazing powers.
California was shattered by a massive earthquake back in '68¸ leaving a 'Great Maze' of labyrinthine sea-canyons and exposing an amazing new superfuel known as ghost rock! It's a boom-town like no other¸ with fortunes to be made for those bold enough to make their way West!
But there's something going on in the American West. Something sinister. Something Weird. The shadows are deeper¸ the nights longer - fear stalks the land like a hungry beast. Abominations from man's legends and nightmares lurk in the shadows¸ and strange cults flourish in isolated places on the high planes.
Some tell of mysterious and terrifying beings called the Reckoners. They say these otherworldly horrors are seeding the entire world with fear¸ cultivating humanity's terror. Someday¸ should they create enough¸ they could even walk the Earth - and destroy it utterly!
Arrayed against the darkness are the heroes of the Weird West(TM). Grim gunslingers ride the trails¸ armed only with their six-guns and their wits. Cardslinging hucksters gamble with dark forces to cast arcane hexes. Scientists teetering on the edge of madness create infernal devices of piston-pumping steam and steel. Wise shamans call upon long-forgotten¸ nature spirits for powerful favors. Agents and Texas Rangers try to protect the public from the most dangerous of all things - the truth.
And death - well¸ death is not necessarily as final as it should be.
Welcome to the world of Deadlands: the Weird West! So¸ have you got what it takes partner? Are you ready to face the worst horrors the Reckoners have to throw at you? Are you ready to stare Death in the face and spit in his eye-socket?
Well¸ then saddle up¸ hombre. The Weird West awaits!