Dawn Patrol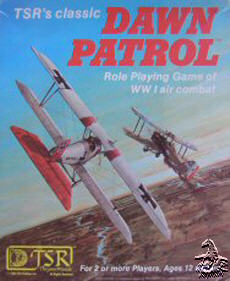 Historische Luftkampfsimulation (erster WK) für 2 und mehr Spieler mit Pappaufstellern und farbiger Landkarte.
A WWI air combat game and RPG¸ a version of the boardgameFight in the Skieswith expanded rules giving more emphasis on the pilots as characters. cf. thesemi-official website. - A description from https://darkshire.net/jhkim/rpg/encyclopedia/ with kind permission of John H. Kim
This Is it! Researched and play-tested for over 10 years! DAWN PATROL aerial combat game was inspired by historical encounters that occurred during the great World War I dogfight era. Fly one step beyond the popular FIGHT IN THE SKIES game and soar to new heights of role playing. Become part of a legendary team of flying aces¸ wingmen and combat heroes. YOU are a vital element of the DAWN PATROL game.
Any number can play. There are an infinite number of game situations¸ or if you choose¸ theres an assortment of ready-made scenarios for up to 12 players!