The Dark Eye / DSA 4te Edition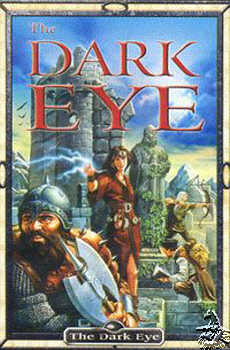 The Dark Eye - die englische Version von Das Schwarze Auge ist auf dem genCon erschienen. Allein die Tatsache¸ daß bedeutende US RPG-Newsseiten darüber bislangt nicht mal ein Wort verloren haben¸ spricht klare Worte: FanPro darf auf diesem neuen Terrain mit seiner Überzeugungsarbeit komplett von vorne beginnen und muß sich mit seinem Neuzugang mit jedem x-beliebigen englischen Rollenspiel mesen lassen. Es steht zu erwarten¸ daß sich Dark Eye in absehbarer Zeit in Deutschland besser verkauft¸ als in Übersee - was an der Neugierde der deutschen Fans liegen dürfte.
A heroic fantasy RPG¸ set in a traditional fantasy world called Aventurien -- i.e. elves and dwarves¸ with cultures mostly based on medieval Europe. The game is very famous in germany. The rule system is complex although with few tables¸ using mostly d20 although with d6's for damage. Character creation is class- and level-based¸ with random rolls in creation and development.
During The next few weeks¸ you will hear more about The Dark Eye¸ the English translation of Das Schwarze Auge¸ Fantasy Productions' premier German fantasy role-playing game. The Dark Eye has been going for almost 20 years¸ backed by more than 150 adventures and sourcebooks¸ 20 boxed sets¸ 50 novels¸ a tabletop board game¸ a collectible card game¸ and three computer games¸ making it an outstanding success in the gaming market.
---
The world of Aventuria awaits you! Core rulebook for the CoA-System allowing you to play a character chosen from a background of 8 cultures (human¸ elven and dwarven) and 12 professions (from rogue to warrior to magician). Detailed yet easy attribute and skill system¸ a quick combat system and the basic rules for sorcery. Contains short primer on Aventurian geography and politics¸ history and religion. Eight archetypal characters for easy access to an endless world where fantasy and reality meet.