British Folk Horror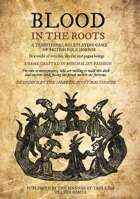 BLOOD IN THE ROOTS is a traditional fantasy game in a world of folk horror based in a version of medieval Britain. Players are members of the Hammers¸ a group established by the monarchy to flush out the evil corrupting the land. One player is the Game Master (GM)¸ while the others are the Hammers. This game uses six-sided dice (d6)¸ several tokens¸ paper¸ pencils and a healthy respect for the ancient darkness inherent in the soil.

Play as one of four archetypes and venture into the evil heart of the land¸ coming face to face with cults and beings older than humanity.

Everything you need to play is packed into just three pages¸ ready to print out on a single page of A4 and fold.