7th Sea / 7te See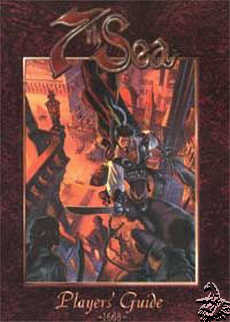 Seefahrt¸ Mantel¸ Degen & Magie. Seinen Namen hat das Spiel von der legendären siebten See (es gibt nur sechs Weltmeere) das eine Art Astralraum in Seefahrergeschichten ist. Jeder echte Seebär will mal da gewesen sein¸ nur beweisen kann er es natürlich nicht.
The 7th Sea wurde sehr stark als Piratenspiel vermarktet. Sogar dies erste Kurzgeschichte zur Einstimmung spielt bei einem Piratenüberfall. Was sind für mich Piraten? Piraten sind Karibik¸ tropische Eilande¸ Schätze in mit Meerwasser überspülten Höhlen¸ Gouverneure¸ die als Bauern im Spiel der Nationen benutzt werden¸ Städte mit Kanonen und Wehranlagen¸ Meuterei von Sklaven auf Zuckerrohrplantagen¸ Degenduelle auf sinkenden Schiffen im Pulverdampf¸ waghalsige Rettungsaktionen vom Galgen¸ tropische Stürme¸ Sandstrände im Mondlicht¸ Kaperbriefe¸ Schatzkarten¸ dunkle Spelunken¸ Rum¸ Augenklappen und Holzbeine¸ Gischt¸ die vor dem Bug hochspritzt... Davon findet sich so gut wie nichts in 7th Sea. Und das ist wohl die größte Enttäuschung von allen. Bei 7th Sea hat man eine Kultur zusammen mit ihrer Geschichte(!) genommen und Fantasy-Elemente dazugepappt.
Bei 7th Sea wird keine "neue" Welt erfunden¸ d.h. lediglich neue Namen für historische Länder¸ Personen etc. (die schreiend falsch sind)¸ jedoch gibt man sich keinerlei Mühe historische und Fantasy-Elemente zu verweben. Dadurch wird das Setting an sich unglaubwürdig und durch den Namenstausch sogar lächerlich. Genau das ist auch das größte Problem¸ daß ich mit 7th Sea habe. Jeder zweite Gedanke beim Lesen war in etwa: "Aha¸ das ist Martin Luther." "Aha¸ das ist Kaiser Konstantin."Aha¸ das ist..." Abgesehen davon¸ daß das beim Lesen stört und nicht so richtig die Stimmung aufkommen will: Diesen Hintergrund hätte ich auch mit Leichtigkeit fabrizieren können. Man braucht dazu ein Mittelstufen-Geschichtsbuch¸ aus dem man einen Großteil herausstreicht¸ und eine Tabelle¸ mit der man die historischen Namen durch Phantasie-Namen ersetzt. Ein Fremdsprachenwörterbuch braucht man anscheinend nicht.
Fazit:Geld machen ist nicht schlimm. Im Gegenteil. Aber der Eindruck¸ den 7th Sea bei mir hinterläßt¸ ist der¸ daß hier jemand mit möglicht geringem Aufwand möglichst schnell möglichst viel Geld machen wollte. Das ist schlimm. Die Qualität des Produktes hat sehr stark¸ fast bis zur Unspielbarkeit¸ darunter gelitten.
Dank an Martin Becker
A swashbuckling RPG set on an alternate world (""Theah"") very similar to 17th century Earth with the addition of magic and various name changes. There are parallels to most of the major European countries (""Castillian"" for Spainiards¸ etc.) but there is no New World. The system is a dice pool system: roll dice equal to attribute + skill¸ keeping a number of dice equal to attribute. There are also bonus dice of a different color. - A description from https://darkshire.net/jhkim/rpg/encyclopedia/ with kind permission of John H. Kim
---
7th Sea is a tabletop roleplaying game of swashbuckling and intrigue¸ exploration and adventure¸ taking place on the continent of Theah¸ a land of magic and mystery inspired by our own Europe. Players take the roles of heroes thrown into global conspiracies and sinister plots¸ exploring ancient ruins of a race long vanished and protecting the rightful kings and queens of Theah from murderous villains.Save the Queen of Avalon from treacherous blackmail!
Thwart a dastardly assassination attempt on the Cardinal of Castille!
Raid the villainous fleets of Vodacce Merchant Princes!
Free the Prince of the Sarmatian Commonwealth from a mysterious curse!
Make decisions that alter the very course of Thean history!In 7th Sea ¸ you are a Hero¸ an icon of Theah ready to live and die for causes that matter. You bravely take on a dozen thugs with swords¸ knives and guns all on your own. You are the trusted knight¸ a loyal bodyguard or even an adventuring queen herself. In other words—you are d'Artagnan¸ Milady de Winter¸ the Dread Pirate Roberts¸ Jack Sparrow¸ Julie d'Aubigney¸ and the Scarlet Pimpernel all rolled up in one! This is a game of high adventure¸ mystery and action. This is a game of intrigue and romance. This is 7th Sea.