Victoriana: The Marylebone Mummy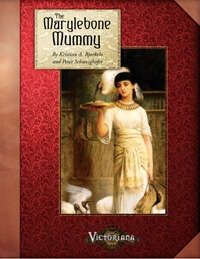 You are Cordially Invited...
...to a dinner party by the renowned explorer Dr. Reginald Cantwell. Dr. Cantwell has plans to unwrap his latest find during the soiree¸ a brand new type of Egyptian Mummy. Plenty of learned and renowned people will be at the engagement¸ but which one secretly invited the characters along?
They will have little time to wonder¸ or to even sample the appetisers. An ancient curse and a sinister organisation have other plans for the evening's entertainment. Can the characters unwrap the sinister secrets of the mummy¸ or will the ancient powers of the dead empire claim them first?
Originally published as a much shorter scenario¸ The Marylebone Mummy has been rewritten¸ expanded and adapted to the second edition of Victoriana. This adventure should prove a decent challenge for a group of 1st rank characters. Those familiar with the original penny dreadful will find much of the premise recognisable¸ but the scenario itself and the unfolding of the plot has been greatly changed.
---

The noted doctor¸ Reginald Cantwell¸ has recently returned from holiday in Egypt and brought back with him a surprisingly rich tourist's trove of quaint artifacts¸ crumbly papyrus scrolls¸ and even a full-fledged mummy in an ornately decorated sarcophagus. He intends to proudly display his gains to friends and colleagues at his grand home in Marylebone¸ topping the evening off by demonstrating his medical prowess by unwrapping and examining the mummy. Unfortunately¸ nefarious forces seek to steal artifacts from the collection¸ and others seek to use the theft to resurrect the mummy!