100 Columns and Pillars to Find in a Dungeon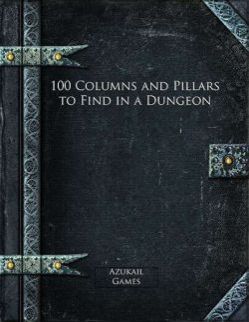 Large rooms often have columns in them¸ holding the roof up. Normal columns rest on a base¸ which at its simplest may just be a plinth¸ and are topped with a capital. Each part of the column may be carved¸ sometimes quite extensively. Stone is the most common material used in such¸ but wood can be used as well. Even normal columns range widely in style and appearance. The columns described in this supplement are not the normal ones and¸ in some cases¸ do not sound as if they are remotely capable of holding a roof up¸ and perhaps they are not. They are made from odd materials¸ come in odd shapes and can have odd features built into them. The most normal types of columns described here could be used for every column in a room; the weirder ones may be by themselves. Some of the columns may serve as adventure hooks; others can be dangerous.
This PDF supports Adobe layers and the page backgrounds and images can be disabled to make printing easier.
Here are some sample results:
The column is a large¸ threaded cylinder of polished¸ lightly-oiled steel that resembles the thread of a screw¸ and it is slowly rotating¸ resulting in an optical illusion that the column is screwing itself into the ceiling.
The column is a mass of intertwined¸ thick roots that have somehow grown in a roughly cylindrical shape.
The column is a pinkish-white¸ fleshy colour and quivers slightly. If the column is touched¸ it feels warm and flinches slightly. If it is cut into¸ the wound bleeds¸ as the column is made from flesh.
The column is a simple cylinder that is sheathed in brightly-polished copper. The copper possesses an electric charge¸ and any creature venturing too close will get an electric shock. Should they be close to two of the copper-sheathed columns¸ the electricity will arc from the creature to the second column¸ causing more damage. Once the column has discharged¸ it will be several hours before the charge builds up again enough to be dangerous.
The column is a single¸ hexagonal piece of a smoky quartz.

One page is the front cover and one the front matter.
This supplement is also available in a Pathfinder version. The latter is a bit longer and has Pathfinder stats for some items. You do not need to buy both versions.

Click on an image to check out other dungeon-themed supplements More ways of improving dungeons

Keep checking back to see if more are added