100 Abandoned 2: Items For Motel Rooms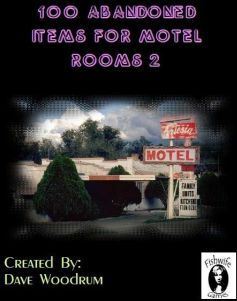 100 Abandoned Items For Motel Rooms 2
This product is a list of 100 mundane items that might have been left behind in motel (and hotel) rooms. From jewelry to makeup to clothing to trinkets and beyond¸ there's quite a mix of possibilities here. So why would such little things be interesting or needed by the GM? This list was designed specifically for two popular settings in mind: post apocalypse and modern crime/drama. As for post apocalypse¸ a few rolls on this chart can help the GM flesh out possible assorted things that looters might find in abandoned motel rooms (that would be beyond the normal expected room stock). In the interest of crime and drama¸ some items- even normally simple things such as clothing¸ make up¸ an electronic device¸ etc.¸ might provide evidence or clues- perhaps it could tie the occupant to a crime¸ or perhaps it might hint at a potential intimate affair or reveal that someone else (perhaps a suspected killer) was in the room.