Black Eagle Tactics and Investigations Handbook for Operatives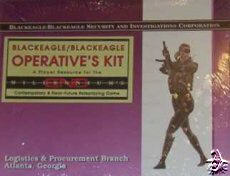 What makes Blackeagle operatives so good? Why do they succeed when so many others fail? This is it--the Blackeagle operatives kit. It gives you all the tricks and techniques for getting the job done right¸ getting it done fast and keeping your character alive while doing it. The kit contains two sourcebooks for players and GMs alike:
1. The Tactics and Investigations Handbook covers the how-tos of infiltrating high-security office blocks¸ conducting jungle operations¸ interrogating informants¸ and negotiating the streets¸ plus hundreds of other points for investigations and tactical operations.
2. The Operations Policy Handbook covers Blackeagle company policy on operatoins¸ contracts¸ support¸ and troubleshoots in the rocky¸ post-Cold-War world.
Thats not all. The Kit includes an Operative ID Card¸ Blackeagle company newsletter¸ and a bumper sticker. Everything you need to be a part of the worlds foremost security and investigations organization. Join the elite and prepare yourself for the most challenging and exciting contemporary and near-future adventuring around.