Dr Who: Adventures in Time and Space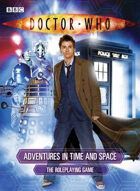 Imagine you could go anywhere. This world or countless others¸ encountering strange alien races¸ new cultures or hostile environments. Now imagine you could travel to any time. See the pyramids and the Sphinx (back when she had a nose!)¸ discover who (or what) really built Stonehenge¸ meet the first Emperor of Japan¸ or travel into the far future as humanity spreads to the stars. Where would you go?

"With Doctor Who: Adventures in Time and Space¸ the power is in your hands! You can go anywhere or anywhen in the universe. It's not going to be easy. It'll probably be dangerous. The universe is a hostile place¸ full of Daleks¸ Slitheen¸ Krillitane¸ Sontarans¸ Plasmavores¸ Cybermen¸ Sycorax¸ Judoon and worse. There will be fear¸ heartbreak and excitement¸ but above all¸ it'll be the trip of a lifetime.

"Doctor Who: Adventures in Time and Space is a roleplaying game set in the universe of the world's longest running science fiction show on TV - the BBC's Doctor Who.