Shimmering Seas (BRP)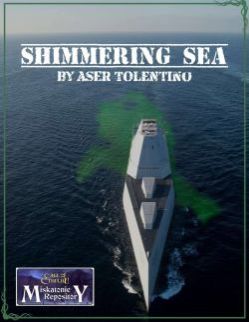 Tensions are high in the South China Sea as the People's Republic of China presses its claim on the resource-rich region that many believe could become a flashpoint for a wider global conflict. As a show of solidarity with its Pacific allies¸ the United States has deployed its newest¸ most advanced warship¸ a recently commissioned stealth destroyer armed with the navy's prototype railgun. But something is wrong aboard the USS Lyndon B. Johnson. A sailor has vanished without a trace¸ and the investigator looking into his death has committed suicide. The navy needs answers and needs them now. A team has been assembled to find out the truth and determine whether there is more to the situation. Is there a spy aboard¸ a new weapon targeting the crew¸ or could the answer be something even more threatening. Amid an escalating series of confrontations between global powers¸ one thing is certain: if this situation is not resolved¸ it could mean the start of the next world war.

Shimmering Sea is an modern stand alone scenario for Call of Cthulhu 7th Edition. It includes six pregenerated investigators. In play testing¸ it has taken anywhere from three to five hours to complete.