Marchlands Pocket Adventure Setting Primer - Supplement for OpenQuest (BRP)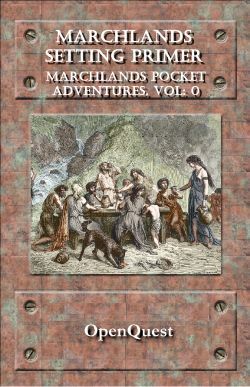 Some might call the Marchlands a feral wilderness. Barbarian territory¸ unexplored¸ untamed¸ uncivilized¸ and inhabited by outlaws¸ exiles¸ and savages. Such people might be correct¸ in some ways¸ but the vast Marchlands are far from empty or lacking in history or culture. The people of the Marchlands live in roaming bands or pastoral clan communities. Historically¸ the people that are now Marchlanders came from all directions¸ settling in waves from the surrounding regions¸ sometimes from far beyond what is now regarded as the known world: refugees from the frigid wastes of the far north¸ exiles from a once-young empire to the south¸ pioneers from the lands beyond the eastern nomad ranges¸ and most recently those fleeing the newfound tyranny in the west. Despite their varied origins¸ however¸ the Marchlanders have come to have a distinct and identifiable culture of their own¸ which serves as a unifying force among the many communities. Where many Marchlander communities feud and ordinarily refuse to cooperate within this culture¸ the Marchlanders tend to favor their own over outsiders¸ and can typically set aside their grievances to address any such threats or issues.
It is in this region in increasingly strange and changing times that the Marchland Pocket Adventures take place. This document serves as a guide for the culture¸ factions¸ laws¸ and other information relevant to those adventures. It will be updated as that series develops. The first such adventure will be released a dew days after the initial day of release of this primer.