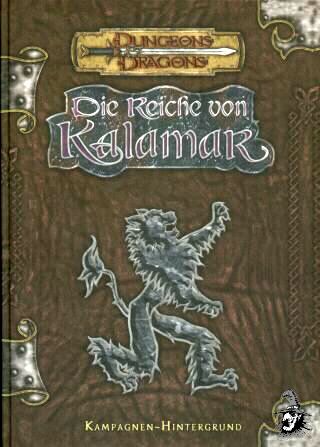 Name: Reiche von Kalamar / Kingdoms of Kalamar
Genre: Fantasy
Sprache: Deutsch
Verlag: Fremdsprachige Ausgabe: Kenzer & Co
Autor: Tim Anton
Meta-System: D20-System
Dazu verwandte Rollenspiele: Adventure Keep, After Winter Dark, Arcana Unearthed, Archipelagos, Armageddon 2089, Babylon 5 d20, Big Eyes Small Mouth d20, Call of Cthulhu, Conan d20, Crime Scene, D20-Modern, D20-System, Dawnforge, Deadlands d20, Diablo, Dinosaur Planet, Diomin, Dragon Lords of Melnibone, Dragonlance d20, DragonMech, Dragonstar, Dungeon World, Dungeons&Dragons 3rd Edition, Dungeons&Dragons 3te Edition, Eberron, Eden Odyssey, Engel, Etherscope, EverQuest, Fading Suns d20, FarScape, Forgotten Realms d20, Freeport, Freeya, Freihafen, Gamma World d20, Greyhawk d20, Horizon D20, Hunt-Rise of Evil, Interstellar Journeys, Iron Kingdoms, Jeremiah, Judge Dredd d20, Karanblade, Kingdoms of Kalamar, Kingdoms of Telgard, Legends and Lairs, Munchkin d20, Narbenlande, Oathbound, Oriental Adventures d20, Penumbra, Rad der Zeit, Ravenloft d20, Reiche von Kalamar, Scarred Lands, Second World, Series Archer, Shadowlands, Silver Age Sentinels D20, Slayers Guide, Sovereign Stone, Spycraft, Star Wars d20, Sundered Reaches d20, Swashbuckling Adventures, Traveller d20, Travellers Tales, Trinity d20, Vergessene Reiche d20, WarCraft, Wheel Of Time, World of Erde, World of Unearth, Wrestling d20,
Erhaltene Awards:
Deutscher Rollenspiele Preis 2002 - Beliebtester Quellenband, Platz 8 , D&D3: Die Reiche von Kalamar
Beschreibung:

Kingdoms of Kalamar werden das offizielle Kampagnen-Setting für Dungeons & Dragons! Dies haben Wizards of the Coast und der Kenzer & Co-Verlag bekanntgegeben. Die Königreiche von Kalamar-Welt wird mit den Besonderheiten der Vergessenen Reiche und Greyhawk verschmelzen. Dies geht damit über eine einfache D20-Lizenz weit hinaus (Erscheint Frühjahr 2001!).