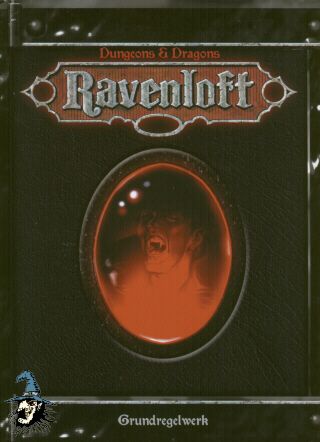 Name: Ravenloft d20
Sprache: Deutsch Englisch
Verlag: Deutsche Ausgabe: Feder&Schwert - Fremdsprachige Ausgabe: Wizards of the Coast
Meta-System: D20-System
Dazu verwandte Rollenspiele: Adventure Keep, After Winter Dark, Arcana Unearthed, Archipelagos, Armageddon 2089, Babylon 5 d20, Big Eyes Small Mouth d20, Call of Cthulhu, Conan d20, Crime Scene, D20-Modern, D20-System, Dawnforge, Deadlands d20, Diablo, Dinosaur Planet, Diomin, Dragon Lords of Melnibone, Dragonlance d20, DragonMech, Dragonstar, Dungeon World, Dungeons&Dragons 3rd Edition, Dungeons&Dragons 3te Edition, Eberron, Eden Odyssey, Engel, Etherscope, EverQuest, Fading Suns d20, FarScape, Forgotten Realms d20, Freeport, Freeya, Freihafen, Gamma World d20, Greyhawk d20, Horizon D20, Hunt-Rise of Evil, Interstellar Journeys, Iron Kingdoms, Jeremiah, Judge Dredd d20, Karanblade, Kingdoms of Kalamar, Kingdoms of Telgard, Legends and Lairs, Munchkin d20, Narbenlande, Oathbound, Oriental Adventures d20, Penumbra, Rad der Zeit, Ravenloft d20, Reiche von Kalamar, Scarred Lands, Second World, Series Archer, Shadowlands, Silver Age Sentinels D20, Slayers Guide, Sovereign Stone, Spycraft, Star Wars d20, Sundered Reaches d20, Swashbuckling Adventures, Traveller d20, Travellers Tales, Trinity d20, Vergessene Reiche d20, WarCraft, Wheel Of Time, World of Erde, World of Unearth, Wrestling d20,
Beschreibung:

Arthaus¸ ein Ableger von White Wolf¸ hat die Rechte für die Ravenloft- Kampagne von D&D gekauft. Produkte werden als D20-System heraus gebracht¸ ohne D&D Logo. Das Regelbuch soll im Herbst 2001 herauskommen¸ weitere Produkte vierteljährlich. Die Buchrechte bleiben weiter bei WotC¸ die zunächst keine neuen Romane planen.
[Quelle: adrv.de]
A night of eternal terror. A world ruled by fear and horror. Vampires who rule the night. Shapeshifters who prowl the forests. Eldritch ghouls and undead skeletons who prey upon a fearful populace. If ever a world needed heroes¸ it is the world of Ravenloft. The Ravenloft setting takes one of the classic roleplaying game worlds and brings it up to date for the Third Edition using the D20 rules system. Players assume the roles of brave adventurers facing ultimate evil in hopes of saving the world¸ all in a Gothic setting of high adventure.